Zorraka

Non-member
Poster's IP: Logged
Posts: 201
Threads: 30
Private Posts: 34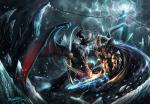 Character(s)
Zorraka(85)

(retired)


Zorra(77)

(retired)


Aukiruru(45)

(retired)
Well not like any of you care but Final Fantasy Twelve comes out in october of this year.

So um when october rolls around my attendance on wow will be a little low. Cuz yeah I have been waiting for this game for way way to long.

By then I'm sure we will have gotten to and beatin nef and all of some new instance but I wanted you all to know. Just cuz I now know for sure when it will finally be released.

Its been like two years and the release date just keeps changing again and agian, but now they have made it definite.

I'm so glad so very glad. Now to get through the next 4 and a half months waiting for its release.

Anyways wanted you all to know cuz when it comes out I will have to split my time between this and it some how.

Hope by then we will have beatin the entire game.