Fries

Moderator
Poster's IP: Logged
Posts: 4369
Threads: 489
Private Posts: 459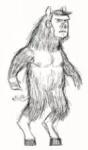 Character(s)
Beanbackmtn(85)
Fries(100)
Marten(96)
Holygeez(38)
Twod(24)
Jely(20)
Fries
I wrote the MSO asking for clarification and this is the response...

From the author of the program notes:



Hi,
In that area of the third movement, Adams was generally using what one might regard as an A-minor scale enhanced with added B-flats and F-sharps. At the point Adams refers to, he's stopped using the B-flats in the orchestral violins.

By trying to keep technical data to a minimum in the program notes, I've contributed to the confusion of the informed. I apologize.

Lol sorry the program was for dumb people. My bad.



--
F'ed in the A.